What is a QR Code?
The low-down on QR Codes -
Here's some useful information about one of the most popular ways to transfer information from the physical world to the digital world on the market today:
The first generation of QR Codes appears as a two-dimensional barcode that manifests as a square consisting of black and white dots. Like all barcodes, the QR Code is essentially a code that contains information and when scanned by an appropriate QR Code scanner that is available for all Smartphones, they redirect the scanner to a certain destination, providing their creators with a wide range of possibilities for their use. Although most QR Codes are used to redirect their scanners to a set destination such as a URL, a Google map location, a YouTube video or a Facebook profile page, they can also be used for many other functions such as transmitting vCards, calling via Skype and sharing statuses via social networks like LinkedIn, Facebook and Twitter.
QR Codes are increasingly popular today in many fields such as consumer advertising, purchasing, social media and security. Recently they've been a big hit in the commercial industry because they provide the customer with quick accessibility to information, such as the brand's website or a store's location. In addition, their use can be tracked, thus supplying their creators with valuable data such as their most popular location, number of scans taken during a day and so forth. In summary, new and ingenious uses for QR Codes are being discovered every day and due to their incredible versatility, their usage is expected to skyrocket in the future, cementing their niche as a valuable and vital component of many different industries.
QR Code Types -
Regular QR Code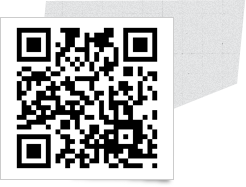 Visual QR Code